Posts: 216
Joined: 30 Nov 2015, 03:45
Anti-spam question: 4
Are you a spammer: No
Location: Phoenix, AZ
Contact:
No. It's mounted to a rather complex bracket that also acts as an engine mount. I'll get some better pictures next time I have it apart.
---
Posts: 216
Joined: 30 Nov 2015, 03:45
Anti-spam question: 4
Are you a spammer: No
Location: Phoenix, AZ
Contact:
---
Posts: 216
Joined: 30 Nov 2015, 03:45
Anti-spam question: 4
Are you a spammer: No
Location: Phoenix, AZ
Contact:
OK... 10 weeks later.....
Now in that 10 weeks I did buy a new house, fix up the old house, sell it, have Christmas and New Year and move my sister-in-law from San Antonio to Phoenix but other than that I've just been lazing around!
First the new house .... and the 1,008 sq ft RV garage!!!!!!!!!!!!!!!!!!!!!!!! Yay!!!!!!!!!!!!!!!!! Room to work in at last! I love it! I shall move in later! This was the decider for me. I assume there's something my wife likes elsewhere but I haven't seen it yet.
So today I finally got back to the car and the issue of the day was "Does the rotisserie work?" ... and the answer is a resounding YES!!!!
It was a little fiddly to get the car on there, but once done it was awesome! Access became so simple!
The chassis is really well balanced on the stands. It's slightly top heavy but so slight that the chassis will sit upright on balance alone and it only takes 10-20lbs of effort to rotate. It's so well balanced that taking the suspension off had to be done by removing one piece then removing the same piece on the other side. Just taking the first wheel off had the chassis swing over 45'. It is really going to make the finish welding and attaching the floor so much easier.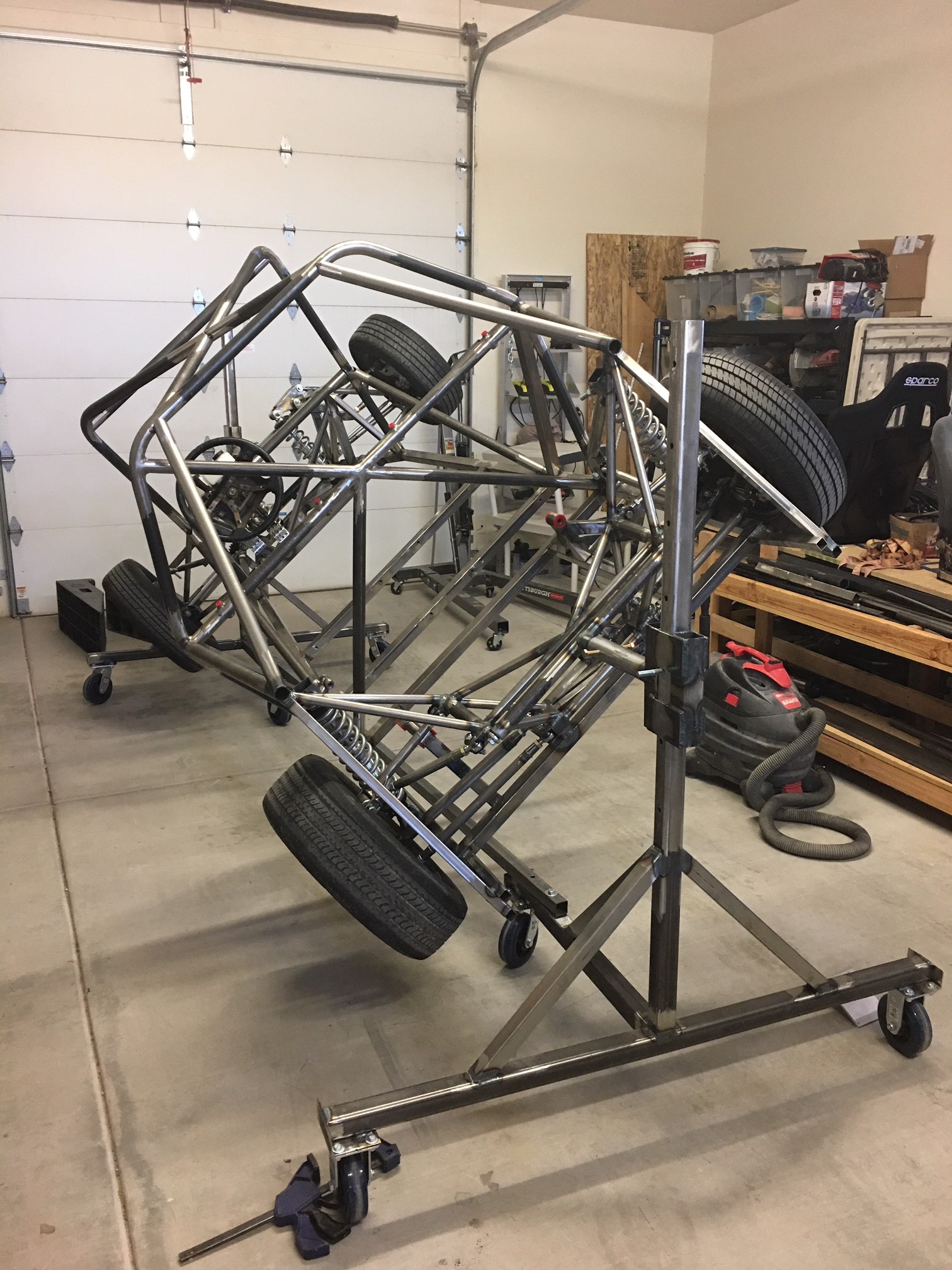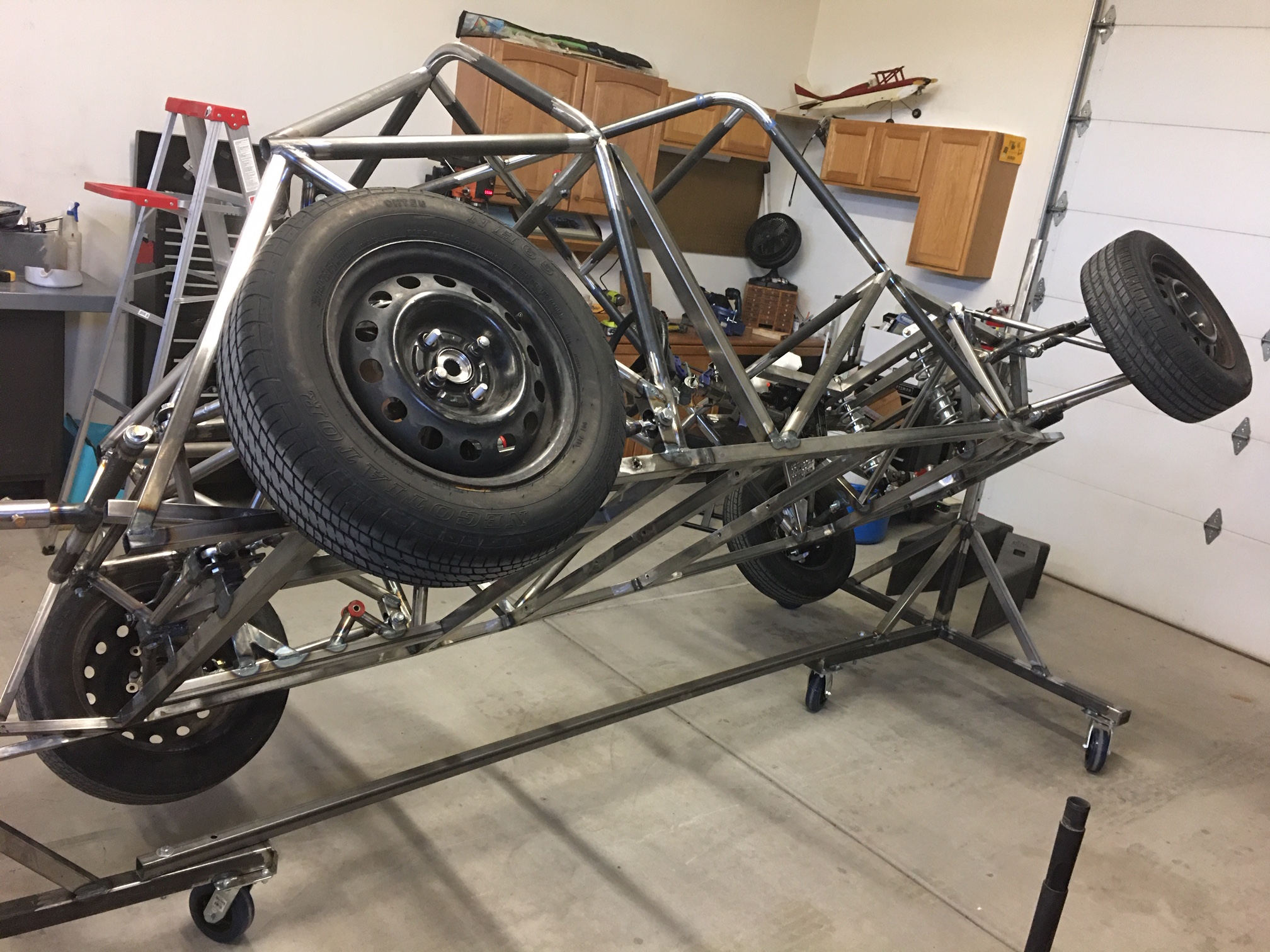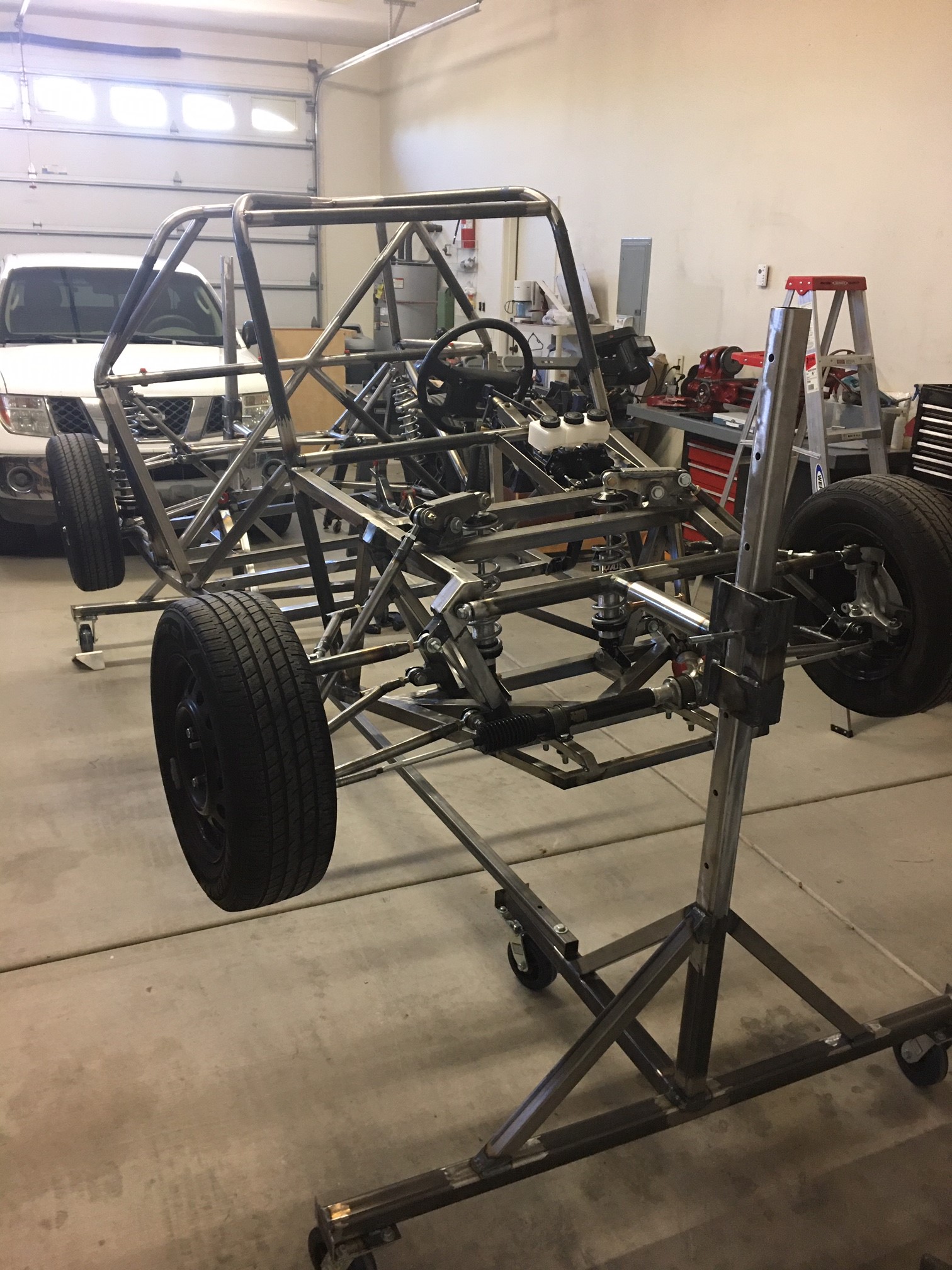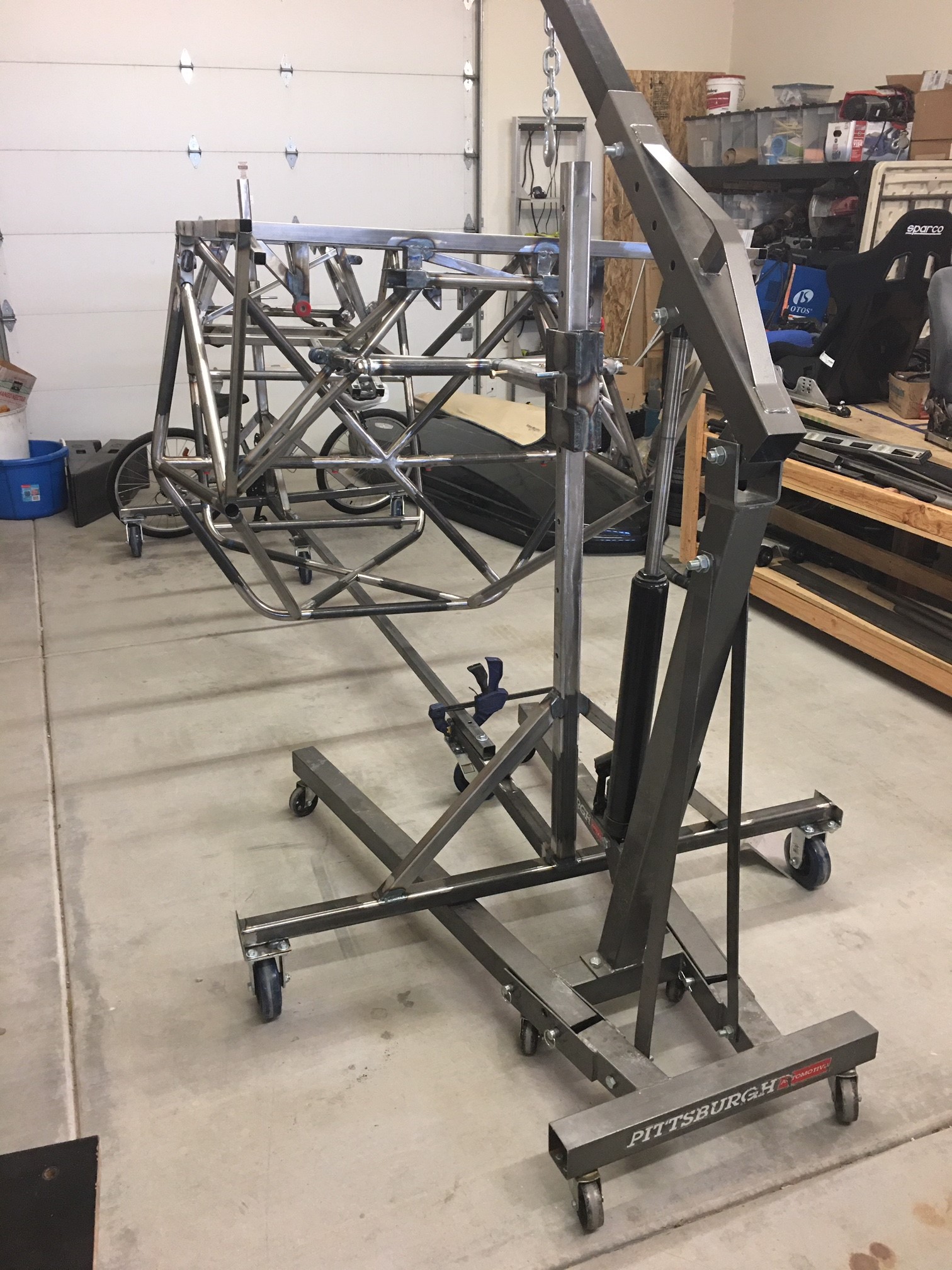 While I had them off I also weighed the suspension. These are the weights for the suspension pieces, dampers, hubs and all bolts, washers, spacers and nuts, but without discs, pads or calipers.
Front: 70.6lbs
Rear: 74.6lbs
---
Posts: 856
Joined: 25 Mar 2015, 08:08
Anti-spam question: 4
Are you a spammer: No
Location: Worcestershire UK
Excellent!! Nice workspace too.

I'm not far from making my own version of the rotisserie - good to know it balances well. I was planning on using the upper front wishbone mounts at the front to pick up on, not sure about the back yet.

I'll be 'converting' the build trolley into the rotisserie, then when the car is finished, probably end up converting the rotisserie into scrap metal as I've no space to keep any of these tools once the car is done. The build table went long ago, sadly. Just hope I never want to build anything similar or I'll be pretty miffed!
---
Posts: 216
Joined: 30 Nov 2015, 03:45
Anti-spam question: 4
Are you a spammer: No
Location: Phoenix, AZ
Contact:
Been a while since my last post, but I haven't been lazing around! I've been welding. Lots of welding. Lots and lots of welding.
I'd have to be honest and admit that the full welding of the chassis has not been the most fun. It's been long, difficult, sometimes frustrating and tedious. I would never have believed how many joints there are to weld, even though I made them all. I would not even have given a moments thought as to how long it would take. I was thinking a couple of days and it took a couple of weeks, and that was with 4-6 hours a day.
Interesting facts:
1. Number of rods used: 5,439,607 - at least that's what it felt like. I became friends with the guy at the welding supply store. he knows my name now.
2. Number of tanks of argon used: 5. Would probably have been less but I found that using the finger trigger on my TIG was much easier than using the foot peddle. To avoid any twisting due to welding heat I was spreading the welding around, and using the trigger meant that was one thing less to move, plus allowed me to focus on the weld.You lose the flexibility of the foot peddle but I quickly came to know the right amperage and gas settings for a given combo of metal in the joint. The downside is that it is so easy to press the trigger by accident, especially when moving around, and once pressed it automatically does the upslope and downslope gas emmision (usually about 4-5 seconds in total) so about half of my argon was used to extinguish the lives of any poor animals wandering past in a cloud of choking gas.
3. Number of burns: Only a couple and surprisingly quite small. Given some of the absolute zingers I've given myself in the past I consider this a blessing!
4. Number of times I almost poked myself in the eye with a welding rod: 27 but again, surprisingly, it never actually happened.
5. Number of times I set fire to my gloves: 2.It really is surprisingly easy when you're welding round corners and you forgot your hand was resting there....
6. Number of blow throughs: Er .... too many. Welding the thin wall 1" square sections to the larger sections was very difficult and required a level of judgement and skill a little beyond me, but I did master it eventually.
7. Number of chassis welded: 1 ... finally! I was glad to get to the end of this, but having got there it is very satisfying. I'm happy with the welds, there doesn't seem to be any outrageous distortion and now we can finally get on with the fuel tank and floor.
I would never have been able to do it without the rotisserie. I cannot imagine what a PIAT it would be having to turn it over on the floor, not to mention the distortion that would probably happen from welding in one area too long because you don't want to flip it again. I was able to flip it over and over without any effort and just walk round to weld in different areas, and it also really helped in the weld quality by being to get in a decent position for most welds. There were still a couple where you had to stand on your head with the TIG gun behind your back but the rotisserie really helped minimize that.
So a little advice to anyone who follows - spend the extra $$$ and build the simple rotisserie (
viewtopic.php?f=4&t=1054&p=10258#p10258
). You wont regret it!
In other news I went a little crazy last week........
We recently moved and sold our old place for quite a bit more than we were budgeting for after having spent the whole of January there tarting the place up! So I guess the effort was worth it! So the wife and I decided to gift ourselves some "play money" to spend on something we wanted that we would not have normally considered buying. So I bought a mill! Haven't had a chance to use it yet as I have no tooling, although that should arrive Saturday, but I have cleaned it up and powered it up. Rather looking forward to playing with this. So tempting to cut all my suspension pickup points off and replace them with milled ones ...... nah!
The fully welded chassis from the front...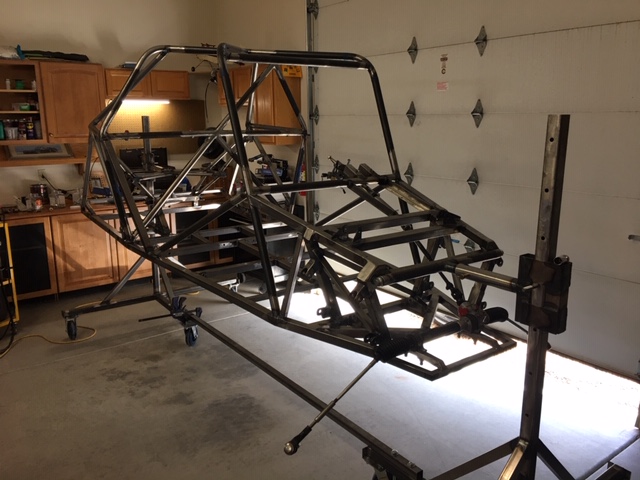 ... and the rear.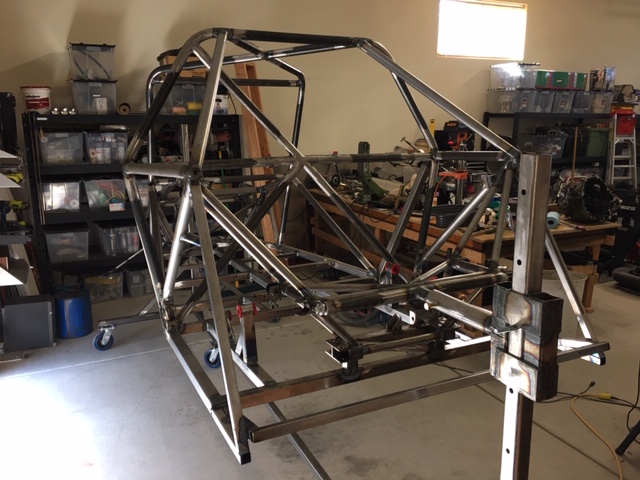 3000lb of future joy! It's a Bridgeport clone.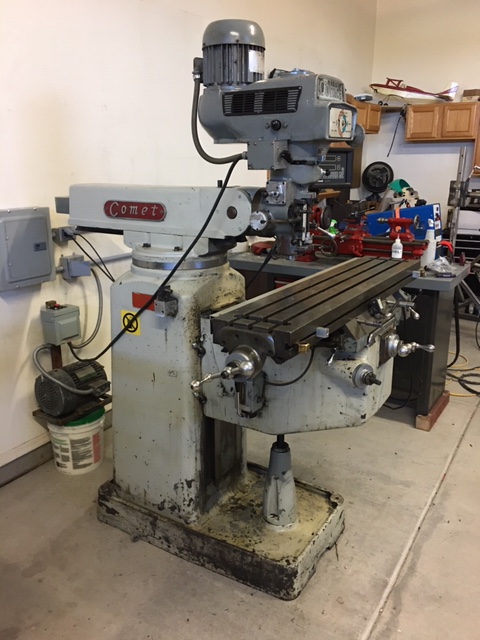 ---
Site Admin
Posts: 3072
Joined: 19 Dec 2008, 16:44
Anti-spam question: 4
Are you a spammer: No
Location: Southern California
Great progress, Steve, and I'm jealous of that garage! I've been avoiding fixing nearly everything in our house and it's finally caught up with me. The question is, do I add a workshop (assuming that She even allows it), or do we just fix the basics and consider moving later to a bigger place. The problem with "later" is that it just keeps moving along and if I don't manage it, I'll become too old to enjoy it.
---
Posts: 216
Joined: 30 Nov 2015, 03:45
Anti-spam question: 4
Are you a spammer: No
Location: Phoenix, AZ
Contact:
I have the perfect wife!
---
Posts: 216
Joined: 30 Nov 2015, 03:45
Anti-spam question: 4
Are you a spammer: No
Location: Phoenix, AZ
Contact:
Got most of the floor done this weekend which was a good feeling as I had been slightly dreading this.
This comes from the first kit car I tried to build. Way back when I was young and Pontius was a pilot (1988) I bought a Westfield Seven kit. Unfortunately it took so long to turn up that I had lost a lot of interest in it by the time it actually arrived. That plus I was too young, too immature and in a sad twist of fate, being distracted by girls. I did start off though and one of the first jobs was to rivet on the panels. These were pre-cut by the factory. All you had to do was drill the holes and rivet them. However, with the tools I had at the time it was miserable. The chassis had obviously hardened during the powder coating process and was very hard to drill. Each hole took ages! I was going through a drill every 20 holes or so, and snapping quite a few of them. I think I went through 20 or so drill bits by the time I was finished. Suffice to say it wasn't fun and was another nail in the coffin of that particular project for me.
Fast forward 32 years....
Being older, slightly smarter and better equipped has made this job easy! Working with an unhardened, untreated chassis was much easier for starters, but three things I bought, and one that I learned made this much,much easier. First off, what I brought:
1: Decent quality drill bits! I bought the drill bits recommended by Aircraft Spruce, their Super Cobalt Drill Bits. Made drilling the steel like going through butter. Drilled 328 holes in aluminum and 100+ in steel without noticing any change in how bright the bit. Big Box drill bits work, but these just cut so much more smoothly and easily! I did break one but that was my fault. See below.
https://www.aircraftspruce.com/catalog/ ... tdrill.php
2. Drill stops! Oh boy how come I've never heard of these before?!?!?!? An amazing invention! You know that sickening feeling you get when your drill breaks through and either slams into whatever is behind it or the chuck slams into your work? Fear that no more!!! These things fit onto your drill bit and provide a cushioning effect, so no more crunches! No more broken drill bits, jarred wrists or scarred work-piece. Such a simple device. Just a spring with a couple of caps with a hole drilled through them but makes a repetitive drill job like this so much easier and comfortable. Highly recommended!!!
https://www.aircraftspruce.com/catalog/ ... ey=3496492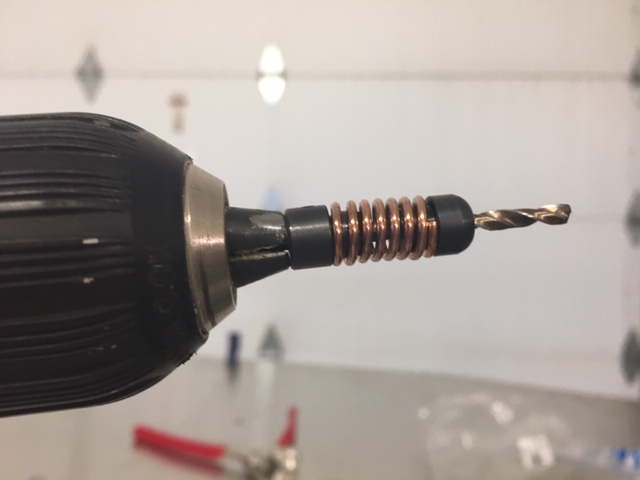 3. I think I'm also in love with clecos! I remember first seeing these on Mark Evan's "A Plane Is Born" and thinking they were pretty cool, but once you actually use them you realize how super cool they are!!! Plus they look awesome once they're all installed.
Surprisingly, one of the cheapest places to buy them is Aircraft Spruce! Go figure! (And no, I am not an employee of, sponsored by or in any other way indebted to Aircraft Spruce).
https://www.aircraftspruce.com/catalog/ ... ey=1584034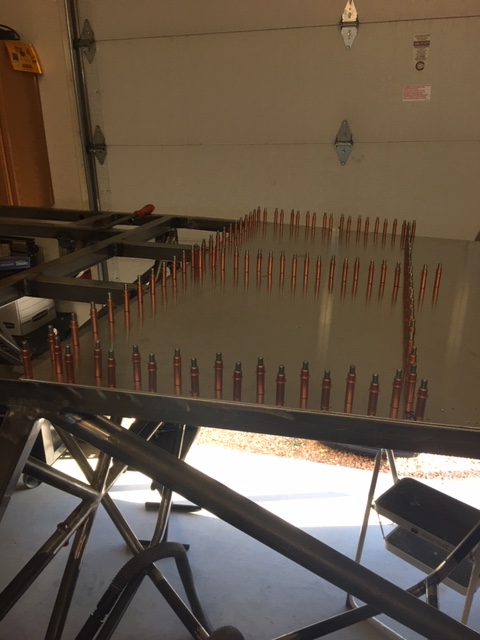 Lastly, something learned, I had hummed and hahhed over how to cut the panels. Generally my attempts at doing stuff like this don't work out as well as I'd like but a little thought and a discovery had these turn out OK. I only really had two options - either a jigsaw or a circular saw. I tried a few tests in the 16 gauge 6061 I'm using and the circular saw was definitely the way to go. I used a length of 1" x 1" square steel tube as a guide clamped firmly in place with a 2" x 4" underneath to keep everything in place. The first couple of cuts were OK but the saw would occasionally stick resulting in a little roughness. Then I had to do a cut using the wide side of the foot meaning I had to raise the saw above the plate. What a difference! With the saw set to cut only slightly deeper than the metal itself it glided through the aluminum like chipboard and gave an awesome cut! Something learned.
Here's a pic. See how the blade is lifted up so that it's only just showing enough blade through the foot plate to cut? Vast improvement than with the blade fully extended.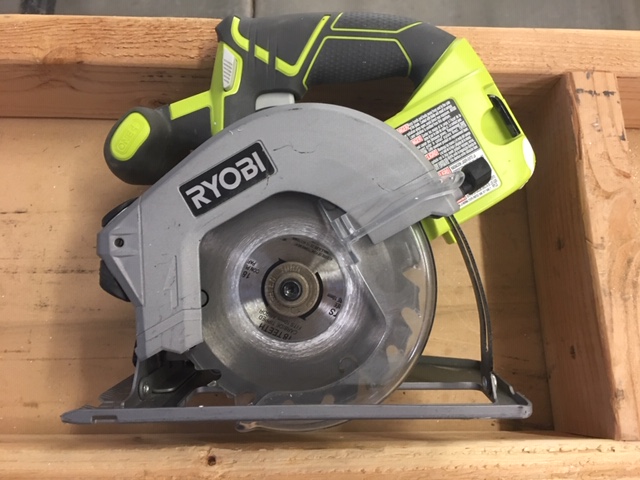 So a good weekend!
---
Site Admin
Posts: 3072
Joined: 19 Dec 2008, 16:44
Anti-spam question: 4
Are you a spammer: No
Location: Southern California
I thought everyone knew about drill stops
Interesting about cutting aluminum with the circular saw, I've never tried it but will now. It does seem sketchy though starting the cut on thin material, with the saw possibly grabbing the edge, but maybe I'm overthinking it.
Aren't Clecos awesome? The first time I started using them I marveled at both their simplicity, and the incredible amount of time they save not having to locate the panels any other way.
---
Posts: 216
Joined: 30 Nov 2015, 03:45
Anti-spam question: 4
Are you a spammer: No
Location: Phoenix, AZ
Contact:
I never knew about drill stops! You failed me! Why weren't they included in the book????? I'm calling my lawyer!
A circular saw works awesome on sheet aluminum. Not sure how thick I would go but 16 gauge (1/16"/~1.5mm) was easy so probably 14 gauge (5/64"/2mm) or even 12 gauge(7/64"/2.8mm).
The blade will catch at the start of the sheet if it's not up to speed, but no problems when at full speed. One trick is to find a "thin" blade. A lot of circular saws have carbide inserts on them which while making them sharp and long lasting also makes them quite wide, ergo harder work and more wasted material. A cheaper, thinner blade without the inserts goes through the aluminum just as easily but reduces the waste.
---